Last year, Atelier Argos participated in the working group of the ANNO Museum in Zwolle, where we collaborated on the development of an exhibition with the central theme being the colonial history of Zwolle. Their involvement was prompted by the publication of the book "Overijssel & Slavery" by Martin van der Linde, a project of the Overijssel Academy.
Atelier Argos contributed to the content of the exhibition and the design of the poster campaign. The museum itself handled the final execution of the posters.
For the exhibition, which was housed in a limited space, Atelier Argos conceived an innovative concept. We made use of the numerous windows in the space to integrate them into the exhibition, marking the first time that the windows were used on such a large scale as part of the overall display. These windows conveyed a narrative about Dutch colonial history and provided an overview of plantations in Suriname with ties to Zwolle owners or shareholders. Earlier that year, Atelier Argos had designed a major exhibition for the Stedelijk Museum Alkmaar with a similar theme, titled "Plantation Alkmaar."
ZWOLLE, koloniaal verleden
Vorig jaar nam Atelier Argos deel aan de werkgroep van museum ANNO in Zwolle, waar we meewerkten aan de ontwikkeling van een tentoonstelling met als centraal thema het koloniale verleden van Zwolle. De aanleiding voor hun betrokkenheid was de publicatie van het boek "Overijssel & Slavernij" van Martin van der Linde, een project van de Overijssel Academie.
Atelier Argos droeg bij aan de inhoud van de expositie en de opzet van de poster campagne. De uiteindelijke uitvoering van de posters werd verzorgd door het museum zelf.
Voor de expositie, die in een beperkte ruimte werd gehouden, bedacht Atelier Argos een innovatief concept. We maakten gebruik van de talrijke ramen in deze ruimte om de expositie vorm te geven. Dit was voor de eerste keer dat de ramen zo groot werden ingezet als onderdeel van het geheel. Op deze ramen werd een verhaal verteld over de Nederlandse koloniale geschiedenis en een overzicht gegeven van plantages in Suriname met banden met Zwolse eigenaren of aandeelhouders. Eerder dat jaar had Atelier Argos al een grote tentoonstelling ontworpen voor het Stedelijk Museum Alkmaar met een vergelijkbaar thema, genaamd "Plantage Alkmaar".
First concept for the windows
Final design (Vectorworks & Enscape)
Concept overview plantations Suriname
Concept posters by Atelier Argos

Final poster design by Museum ANNO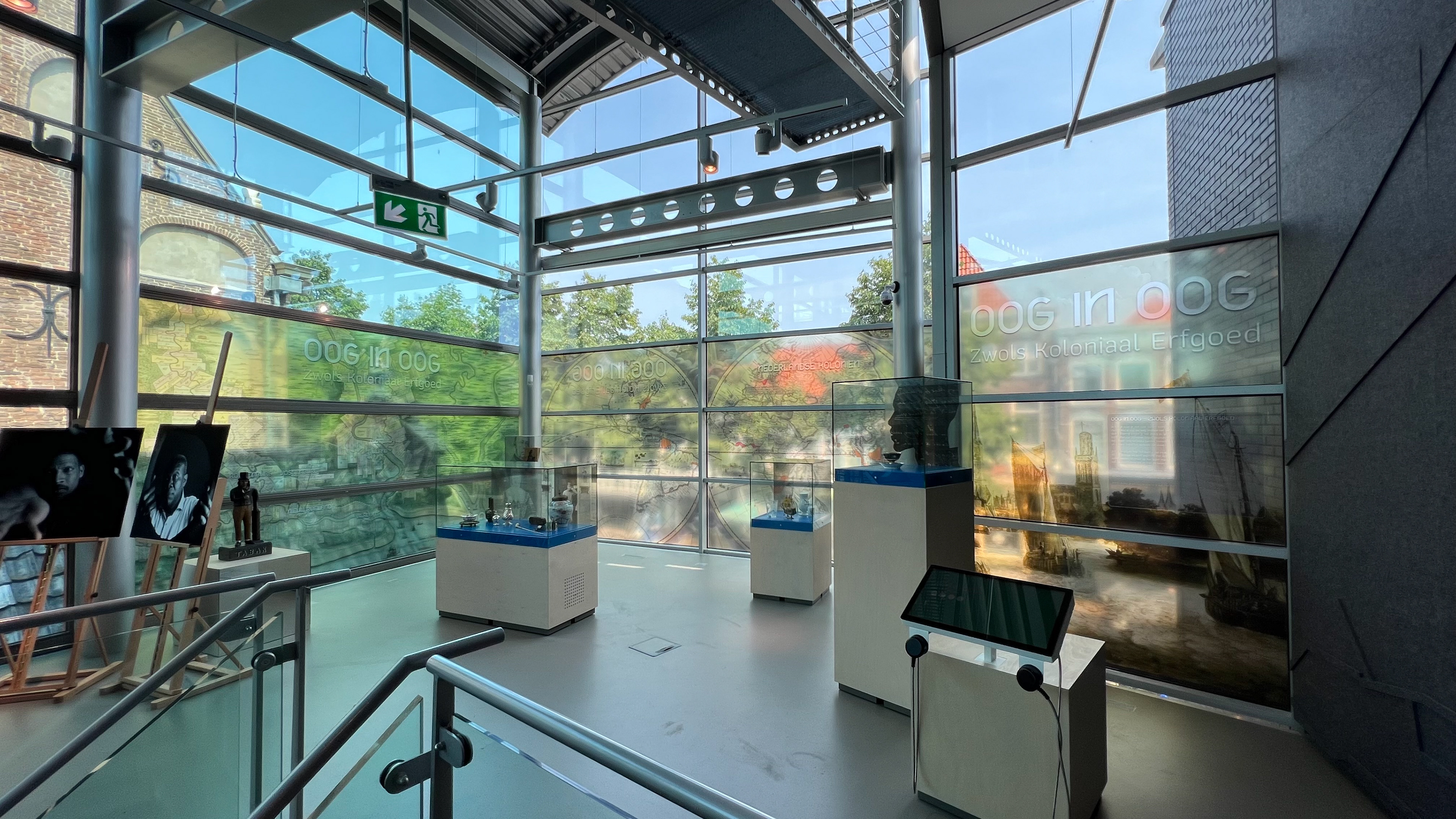 Final result. The company who made the prints for the windows did't print them on the right material.